Forestry Mulching Land Clearing Service
Enjoy the full benefit or your property without the hard labor to clear it yourself. Our professional land clearing service in Jacksonville is here to help.
Your Solution for Land Clearing Jacksonville FL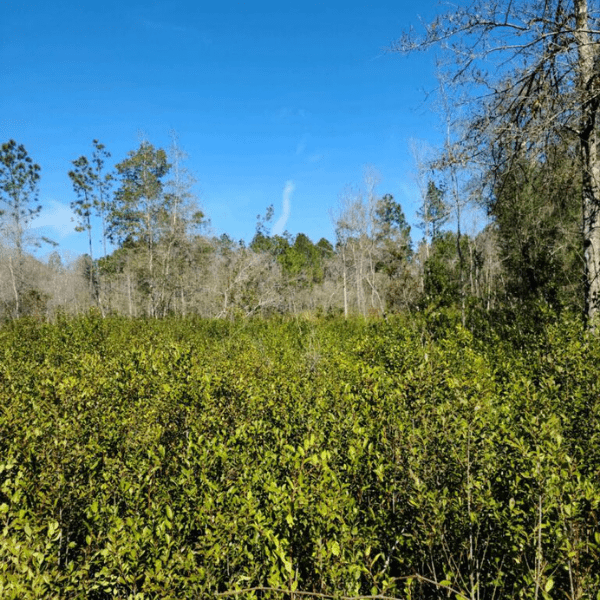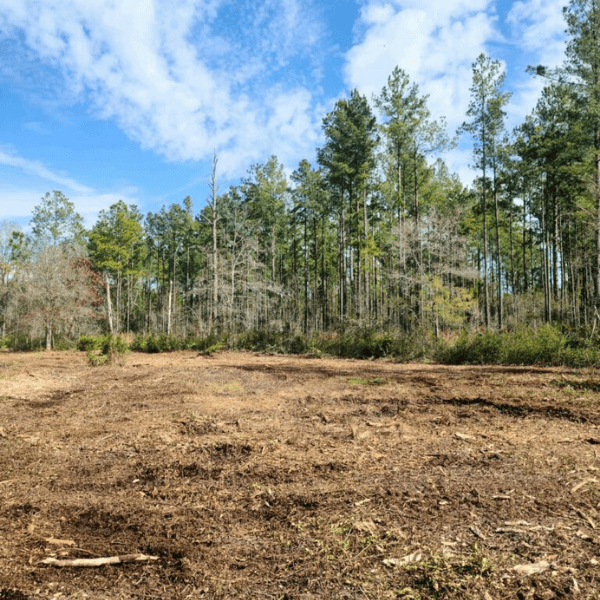 If you have a plot of land that you want to be developed and eventually used for construction, then you'll need it prepared. This work includes clearing trees and underbrush, removing large rocks and tree stumps as well as leveling out the ground itself.
There are also several other reasons that you may need to do some land clearing work. Maybe your property has become overgrown or taken over by invasive plant species. Vegetation overgrowth can also begin to take over your fence lines or a right of way. Perhaps you just want to clear out a new field to enjoy more open space outdoor or even to plant a new garden.
No matter your reason or end goal, there's a lot of work involved to get your land cleared. You'll need the right heavy equipment as well as a high tolerance for the intense Jacksonville FL heat. This massive task leaves many overwhelmed and in search of an experienced team.
Legacy Land Management LLC has the right equipment and techniques to clear land quickly and at a fair price. We do this without causing damage to any neighboring properties or plant life and landscaping that you want to remain intact. Our land clearing experts will prepare your property for development by removing unwanted vegetation, debris, as well as any other obstacles
Your Trusted Jacksonville Land Clearing Company
Legacy Land Management LLC provides professional land management services to Jacksonville Florida as well as the surrounding Northeast Florida and South Georgia areas.
We are a family-owned and operated company and we take a very personal interest in the well-being of our employees, customers, and the environment. Every project that we work on is under very strict safety measures.
The clients that we work with know that they can trust us to deliver the same quality service, no matter how large or small the land clearing job is. In addition, our prices are affordable and transparent, with no hidden fees. So, if you need a trusted Jacksonville land clearing company, then give us a call.
So, contact us today for a free estimate for your land clearing project.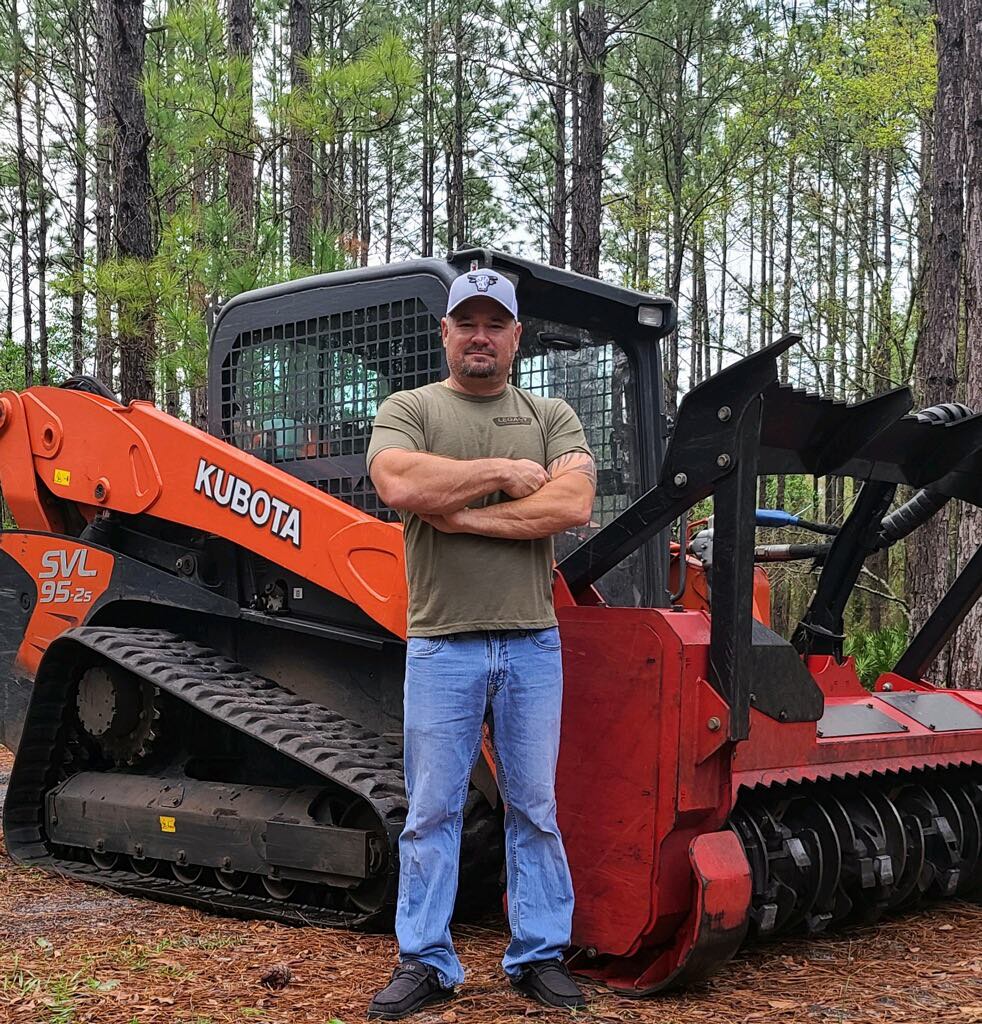 Our Land Clearing Services
If your next project requires large-scale land clearing, then Legacy Land Management has what you need. Our land clearing experts use specialized heavy equipment and techniques that get the job done quickly and safely.
We do quick work while at the same time staying focused on providing the best quality of service possible. Our goal is to always get the job done right the first time. So, give us a call for your next project.
Site Preparation
If you're planning a forestry or construction project, then you'll need site preparation services. Site preparation involves using heavy equipment to remove trees, plant life, and other obstacles. Next, we use our excavation equipment to level out the area. It's then ready for the next phases of your construction or forestry project
Right of Way Clearance
Right-of-way clearance is the first step in putting in a new road or highway. Legacy Land Management will come in, level the ground, and clear the way for the other equipment and supplies that will be coming in.
Survey and Fence Line Clearing
Keeping your survey lines cleared of debris and excess plant life is required when establishing property boundaries. It's also important to keep your fence line cleared. If a fence line becomes overgrown, then it can damage the fencing material and even cause a fire hazard.
Underbrush and Land Clearing
Legacy Land Management provides residential and business properties with land clearing and brush clearing. Land clearing will remove all the plant life and debris down to the bare dirt. Brush removal is more specific. We'll come in and remove the unwanted plant life and other obstacles and leave the rest of your property untouched.
Forestry Mulching
We use mulching machines when clearing away branches and brush. Forestry mulching involves a large wood chipping machine. Once the mulching is completed, the leftover mulch can be used for soil nutrients, walking paths, and much more
Storm Damage Cleanup
If a hurricane or large storm has left damage to your property, then we can provide emergency services. Our team will come and clean up fallen trees or debris from your property to help make your yard both beautiful and safe.
Field and Lot Clearance
Field and lot clearing are usually smaller scale land clearing projects. For these projects, we use our equipment and manpower to remove shrubs and trees to make room for a larger lawn or smaller construction projects. So, call us and transform your unused property for the yard that you dream of.
Trail Creation
Legacy Land Management's trail creation service involves clearing away trees or foliage while still preserving the natural landscape as much as possible. We help you create a beautiful pathway that enables you to enjoy your forested property.
Stump Removal
Tired of that unsightly stump taking up space in your yard? Then call us. We will use specialized grinding equipment to grind down tree stumps and excavate the roots. We'll also fill in and level out the remaining space.
Food Plots
If you're planning on planting a food plot for the local wildlife or even a garden for your family, then we can help. Legacy Land Management will clear the area to provide room for your new plants.
Removing Invasive Species
Our experts will remove invasive plant species from your land. We use specialized methods and equipment to remove only the invasive plants. We make sure that no damage is done to the plants growing around the invasive species
Selective Tree Clearing
Selective tree clearing services are the perfect solution for diseased or overcrowded trees. Our tree removal process will safely remove the trees that you don't want without causing any damage to your other trees and foliage. Read more about our tree service here.
Reclaiming Land
Have water covering on your property that you don't want? Legacy Land Management uses heavy equipment to drain water from swamps, lakes, riverbeds, etc. The land is then free for you to use for agriculture and other purposes.
Grading
Grading involves shaping the landscape on your property. This can mean leveling the ground or creating hills and other features. Our grading service is useful for both landscaping and to prepare the land for new construction
Dirt Work
Dirt work involves excavating, moving, and importing dirt to or from your property. Our experts can greatly reduce the amount of time you would spend on dirt work if you did it yourself. So, leave the dirty work to us.
Stump Removal and Stump Grinding
Our stump removal and grinding services provide a fast and easy solution to get rid of old tree stumps that are taking up room on your property. We use specialized equipment to remove the tree roots.
Get Your Free Estimate for Land Clearing Service Today

Get the most out of your property with a large and beautiful yard that you can enjoy. Hire our reliable land clearing company, serving Northeast Florida and Southeast Georgia. We will be happy to help with your next project.
Contact us today for your free quote for land clearing in the Jacksonville area.